I'm on a public show break until December 10
Soul Holiday with St. John's Gospel Choir and Mo Egeston All-Stars Live @ the .Zack
And in 20224 Jan  4 it's the Birthday Show @ Joe's!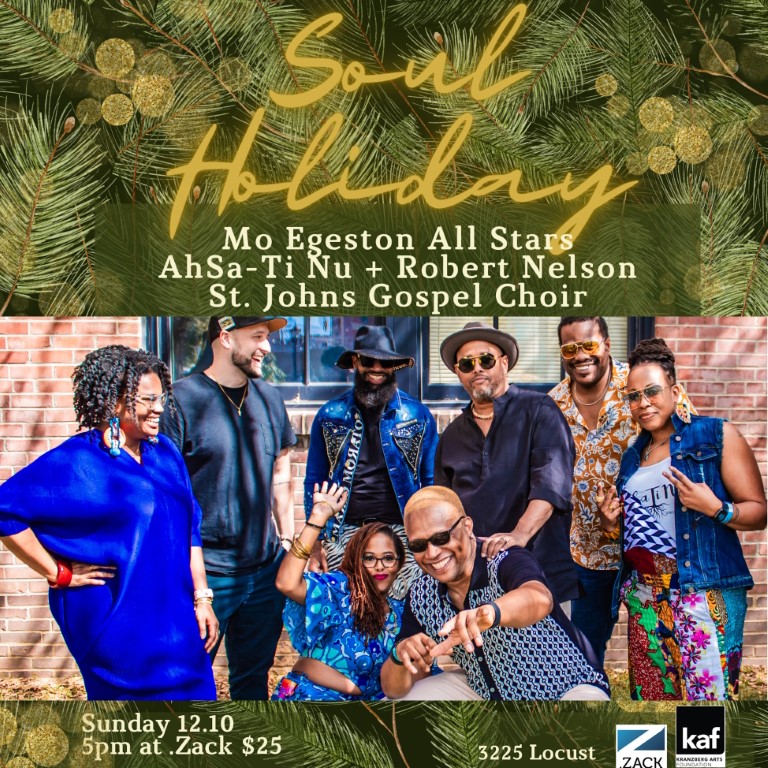 Listen to Mo Egeston & Mo E All-Stars original music everywhere including here.
Please scroll to the bottom for the mailing list!
I'm on Keys Sundays @St. John's UCC- the Beloved Community.  
See the menu above or click here for Piano Lessons
Welcome to Mo Egeston Music. Maurice "Mo" Egeston is a pianist, bandleader and educator from St. Louis, Missouri. He spends his musical time writing and arranging primarily for for Mo Egeston All-Stars/Trio  while also working as a collaborative pianist, accompanist and educator in both the classroom and private studio. Mo did his graduate studies in chamber music and accompanying at Southern Illinois University (Edwardsville) with Dr. Linda Perry. He currently runs his own Mo Egeston Piano Studio and is an instructor at Teipen Performing Arts.  He has taught adjunct classes in the St. Louis area since 1996 (Applied Piano, Vocal Jazz Combo, Improvisation, Music Appreciation, Music of the United States, Masterpieces of Music) and was part of the inaugural class of Kranzberg Arts Foundation Music Residents (2018).
A 25 year veteran of the St. Louis music scene, Mo first emerged as a band leader during the birth of the Washington Ave. nightlife scene in the mid 90's. Soon after, regional favorites Vargas Swing brought the sounds of the swing revival to the St. Louis club scene and were featured on 2 national compilations.
Next came the pioneering live electronic dance music project Urban Jazz Naturals who released 2 dance singles globally and eventually evolved into mo & dawn: the remix project. See Mo's bio for a more detailed band and recording history.  (Mo E's background info)
Click to Download the Mo Egeston Music booking one sheet.
In 2008 the Mo E Family was born as a catch all for the variety of projects Mo currently leads.
Mo E All-Stars original modern jazz fusion, drum & bass, modern soul, electronica, nu jazz & house
Mo Egeston: Groove Sessions solo improvisation with beats, loops and live sampling.
Mo E trio/Mo E3 Mo E 3 can be anything from a traditional instrumental jazz trio (soul, jazz, pop) to small dance music ensemble.  Mo E3 also collaborates with area vocalists including Robert Nelson and Jessica Butler
Mowinda violin & piano chamber music.  Classical, pop, tango & jazz
Coco & Mo

 Mo Egeston frequently collaborated with St. Louis based singer and songwriter 

Coco Rochelle. 

This collaboration is currently on hiatus since Coco is in ATL.  Stay tuned for future collaborations.
Past Collaborations and Projects:
Mo E All-Stars were a part of the Second Season of the Chevy Music Showcase- STL Edition. The episodes aired in 2013 on KMOV-TV and can be viewed on YouTube along with other live clips. (Mo E All-Stars YouTube Playlist)
Mo was a member of St. Louis rock band Brothers Lazaroff  from 2008 through the summer of 2014. The band released the albums Give Em What They Need in 2010 and Science Won in 2012.  The band's Hope, Fear,Youth was released in the Fall of 2013. (Bros Laz on CD Baby )
In early 2014 Elizabeth Mcqueen meet Brothers Lazaroff released a KickStarter supported EP remix of the renown Austin singer and songwriter's album The Laziest Girl in Town
Mo also contributed a track to the Science Won Remixes (Link to Bandcamp)-  "I Could Stay Here for the Rest of My Life" features Elizabeth McQueen & Brothers Lazaroff. Listen to the single by following the music links above.
Join Mo on Facebook  with a click and a like. Thanks for stopping by!